Timesheets Lite
Downloads: | Views:

Timesheets Lite is our free timesheeting software. It is ideally suited to a project based environment where you need to track your employees time against projects. Key features of Timesheets Lite include: Completely free for use Simple to use interface Create and delete employees and projects Allow employees to book time against projects Generate reports suitable for invoicing in Microsoft Excel Multi user system with user security (including password control) and permissions Centralised database allowing multiple client installations and one secure database location Uses Microsoft Access database allowing you to generate your own reports easily using Access. Full source code available for modification On going support and development Timesheets Lite is ideal for: Project based businesses Consultants Builders Accountants Programmers Engineering firms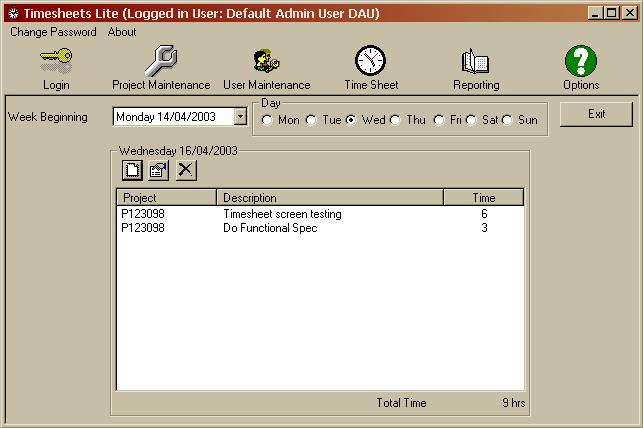 Author: Mark Nemtsas | License: Freeware
Version: 1 | Size: 2755 KB | Platform: Win98,WinME,WinNT 4.x,WinXP,Windows2000
Date Released: 21-08-2003
Timesheets Lite Related Program:
timesheets, projects, invoicing, piece
Timesheets Lite - Timesheets Lite is a piece of software written for companies that cost their employees time on an hourly basis..
Senomix Timesheets - Senomix Timesheets is the easiest networked timesheet software for engineering and project-based offices. All features are installed in minutes to let you ...
Journyx Timesheet For Linux - Use our Free Web Timesheets to Discover secret profits in your business and ease billing now. Automate Payroll with our New improved setup features..
Universal Explorer
Powerful windows explorer file manager and viewer.


Disk Size Manager
Analyses hard disk space and collects statistics.


Web Data Extractor
Email marketing software to extract specific contact.


ListMotor
Email List Manager, operates with email stored in simple text files or csv files.