RegAuditor
Downloads: | Views:

RegAuditor gives you a quick look at the Adware,malware and spyware installed on your computer including parasites and trojans. RegAuditor tells you by colored icons ( green icon - safe, yellow icon - unknown, red icon - harmful ) whether specific Objects are known to be safe or harmful, also the program searches the registry for entries including filenames that aren't present on and allows you to delete unwanted registry entries. The tool is designed with a user-friendly interface and is easy to use.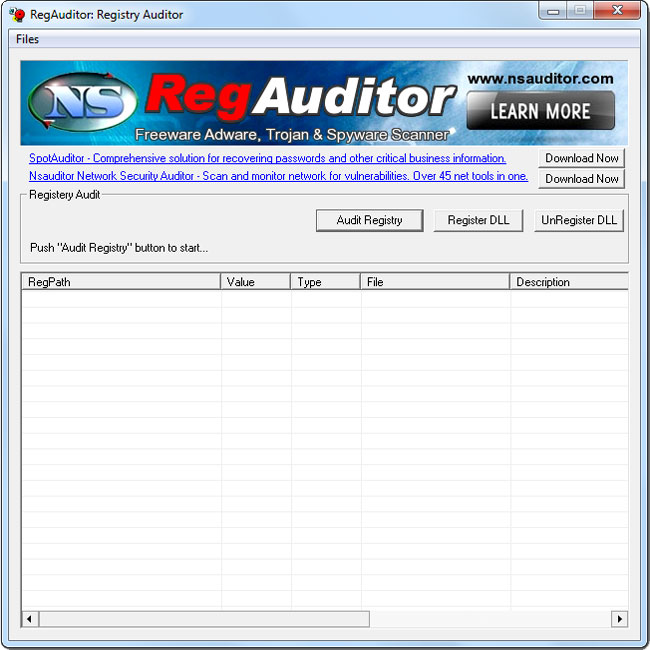 Author: Nsasoft LLC. | License: Freeware
Version: 1 | Size: 800 KB | Platform: Windows2000,WinXP,Windows2003
Date Released: 04-05-2005
Homepage | Download

adware, trojan, spyware, malware, network software, net tools, network monitoring, hacking, port scan, network utils, network security, port scanner, intrusion detection, event log, computer security, enterprise security, information security, internet scanner, security software, freeware, shareware
Universal Explorer
Powerful windows explorer file manager and viewer.


Disk Size Manager
Analyses hard disk space and collects statistics.


Web Data Extractor
Email marketing software to extract specific contact.


ListMotor
Email List Manager, operates with email stored in simple text files or csv files.