KGB Free Key Logger
Downloads: | Views:

Free KGB Key Logger is a multifunctional keyboard tracking software (a.k.a. key logger) that is widely used by both regular users and IT security specialists. The reason for such popularity is that this program does not just record keystrokes; it is capable of recording language specific characters (ex. umlauts), date and time certain window was initiated as well as the caption of that window. Thus, this software combines two very important qualities - it records all typed data, so that you won't lose it when your computer unexpectedly crashes, and it keeps the record of all keyboard activity. It allows you to monitor your children's activity at home or to make sure your employees do not use company's computers inappropriately. There are three versions of keylogger - Free KGB Key Logger, KGB Keylogger and KGB Spy. Free KGB Key Logger is absolutely free, contains all basic features described above and is intended for non-commercial use at home as a keylogger. KGB Keylogger and KGB Spy is a well known, highly praised IT security oriented software that goes beyond recording keystrokes. While it was originally created for corporations and small businesses, it is becoming increasingly popular for home use as well. The main reason for that is extended capabilities of KGB Spy or KGB Keylogger. Industry experts regard KGB Spy and KGB Keylogger as the best low-cost non-invasive software from the keylogger family. All major corporations use keyboard loggers to prevent loss of data and to monitor employees' activity; large part of them chose KGB Keylogger from www.refog.com. KGB Keylogger is sold on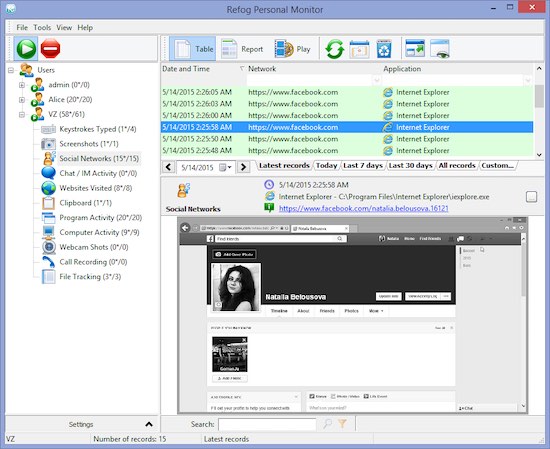 Author: ReFog Software | License: Freeware
Version: 1 | Size: 1279 KB | Platform: Win95,Win98,WinME,WinXP,WinNT 4.x,Windows2000
Date Released: 11-03-2005
Homepage | Download

spy software, keylogger, key logger, keystroke recorder, keystroke logger, passwords, password, invisible keylogger, keyboard monitor, keystroke recorder, keystroke recorder, keylog, recorder, monitoring, recording, keystroke, access, attack, audio, business intelligence, big brother, bug, capture, catch, control, computer, desktop, email, e-mail, freeware, home security, hack, hacker, hacking, hook, internet monitoring, intelligence, interceptor, investigate, internet, grabber, key, keyboard, keylog, keylogger, keystroke, law enforcement, logger, logging, logon, monitor, monitoring, password, parental control, product, program, pc, recorder, recording, surf, software, screen capture, snapshot, spies, spy, spyware, surveillance, tracking, traffic, trap, trojan, trojan, tool, utilities, video, virus, web, wife
Universal Explorer
Powerful windows explorer file manager and viewer.


Disk Size Manager
Analyses hard disk space and collects statistics.


Web Data Extractor
Email marketing software to extract specific contact.


ListMotor
Email List Manager, operates with email stored in simple text files or csv files.