Finger
Downloads: | Views:

Finger is the tool for discovering user information by using well known finger service. To use the finger tool enter the User@)Host in the Finger Input box, and click on the Finger button .The results will be shown in the Finger Response section.Using Finger tool makes possible to get Abuse Address of remote host.For example to get the abuse address of prontomail.com you should type [email protected] in the finger input section. As a result you will receive [email protected] (for prontomail.com) in the finger response section.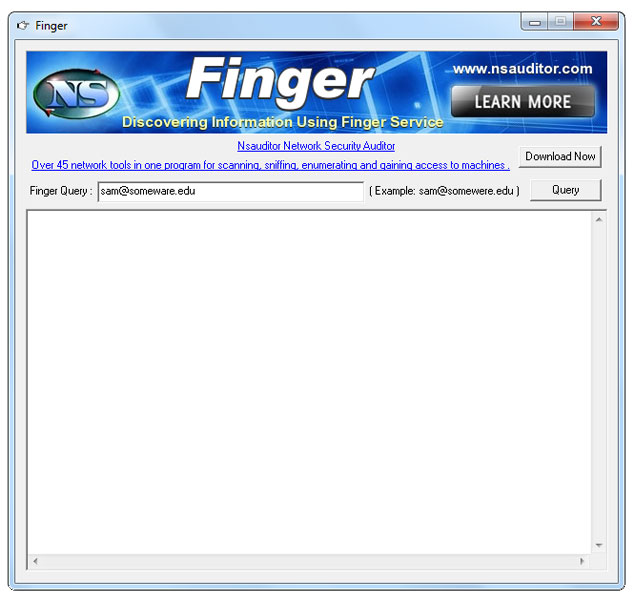 Author: Nsasoft LLC. | License: Freeware
Version: 1 | Size: 536 KB | Platform: WinME,WinNT 4.x,Windows2000,WinXP,Windows2003
Date Released: 02-03-2005
Homepage | Download

network tool, network software, net tools, network monitoring, hacking, port scan, network utils, network security, port scanner, intrusion detection, event log, computer security, enterprise security, information security, internet scanner, internet security, network attack, security software, freeware, shareware, passwords
Universal Explorer
Powerful windows explorer file manager and viewer.


Disk Size Manager
Analyses hard disk space and collects statistics.


Web Data Extractor
Email marketing software to extract specific contact.


ListMotor
Email List Manager, operates with email stored in simple text files or csv files.