Cactus Spam Filter
Downloads: | Views:

Cactus Spam Filter is a free easy-to-use spam blocker. It protects your inbox by learning to detect spam as it's being used. After a short while it has adapted to your personal mailbox and blocks out most of the junk e-mail. Since the filter becomes personal, spammers will not be able to fool it. Installation is very simple. No setup is required in your e-mail client; this spam stopper integrates seamlessly with all e-mail clients that use POP3. It has been successfully tested with Microsoft Outlook, Microsoft Outlook Express, Netscape, Opera, Mozilla, Eudora, IncrediMail, Pegasus Mail, Foxmail and Phoenix Mail. This anti-spam program learns to detect spam as it's being used, and believe me, Cactus Spam Filter is a fast learner. After a few e-mails it will start to make its own decisions to relieve you from the spam burden. Even though this is a brutal, merciless spam killer, no e-mails will get lost unless you delete them. One of the unique features of Cactus Spam Filter is the ease of use. After you have downloaded and installed it no more settings are required! No account setup, no POP proxies, nothing! Just start your favorite e-mail program and Cactus Spam Filter will instantly protect it!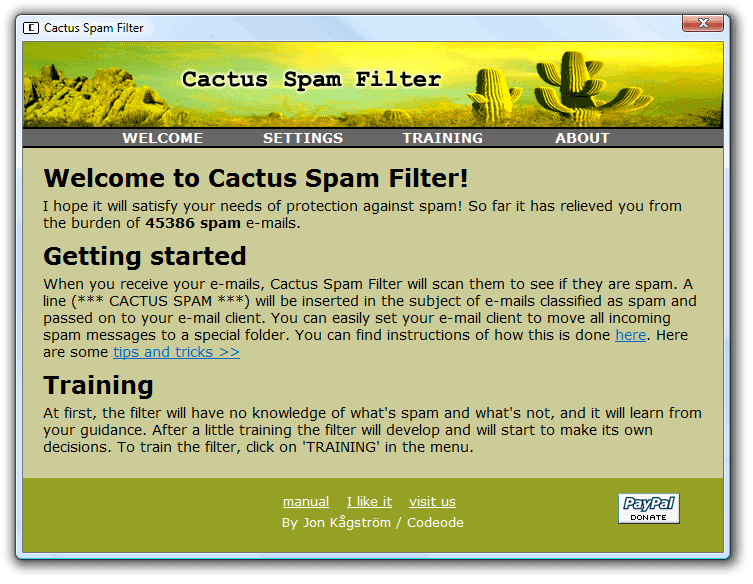 Author: Codeode / Bysoft Data AB | License: Freeware
Version: 1 | Size: 550 KB | Platform: WinXP,Windows2000
Date Released: 21-09-2004
Homepage | Download

codeode, spam, filter, killer, blocker, spam filter, cactus, cactus spam, cactus spam filter, inbox, protect, junk, e-mail, spammer, client, pop, pop3, outlook, outlook express, netscape, opera, mozilla, eudora, incredimail, foxmail, phoenix, mail, anti, anit-spam
Universal Explorer
Powerful windows explorer file manager and viewer.


Disk Size Manager
Analyses hard disk space and collects statistics.


Web Data Extractor
Email marketing software to extract specific contact.


ListMotor
Email List Manager, operates with email stored in simple text files or csv files.