Software Audit Protection Program
Downloads: | Views:

Allied published this version as freeware (no cost to the user), because as a member of the Association of Shareware Professionals (ASP) and a software developer since 1980, it realizes that a great deal of so-called piracy is often a matter of poor record keeping. While this program may not stop the hard-core pirate, Allied believes that law-abiding companies and individuals would welcome a tool to help them manage the ever-increasing burden of tracking installed software. All information maintained in the Software Audit Protection Program is strictly internal and the program does not communicate results outside of the company. Any action taken on the part of the business owner to correct a violation is voluntary. The Software Audit Protection Program is a management information tool. Track every piece of software and its license. See software installations, receipts, and find problems BEFORE someone else does. Helps you stay in compliance and out of trouble! See critical computer data like the OS, Key or Serial Numbers, CPU type, RAM, hard drive, and CD-ROM information. Automatic registry reader included with Version 3. Here are some of the features included: -Keeps purchase information and receipt images -Keeps computer installation information -Keeps licensing information -Keeps organizational information -Automatic registry reader utility -Updated, enhanced and new reports -Extensive help -Upgrade modules via web downloads with the new At a Glance updater. -Free Email support for all registered users -Version 2 to 3 data conversion -Network ready -FREE!!!!! A network administrator's dream to help monitor computers, software and users. Complete automation allows for hands-free tracking. Other editions available for more complex reporting and tracking needs, such as unattended monitoring through batch files, scheduled events etc.; and import and export utility to send data out to other programs such as spreadsheets.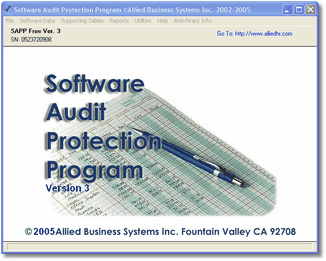 Author: Allied Business Systems Inc. | License: Freeware
Version: 3 | Size: 10242 KB | Platform: Win98,WinME,WinNT 3.x,WinNT 4.x,Windows2000,WinXP
Date Released: 01-02-2005
Software Audit Protection Program Related Program:
free software audit protection, business software, track installed software, autoread, network administrator, software monitoring, software reporting, license tracking, automated tracking, installed, license tracking, network administrator, piece, software audit
Universal Explorer
Powerful windows explorer file manager and viewer.


Disk Size Manager
Analyses hard disk space and collects statistics.


Web Data Extractor
Email marketing software to extract specific contact.


ListMotor
Email List Manager, operates with email stored in simple text files or csv files.