HttpTrafficGen
Downloads: | Views:

This is a HTTP traffic generator for testing web applications. You can specify the requests count and interval between two requests. The generated requests are sent to the specified URL. It is a very simple and fast program which can simulate client activity.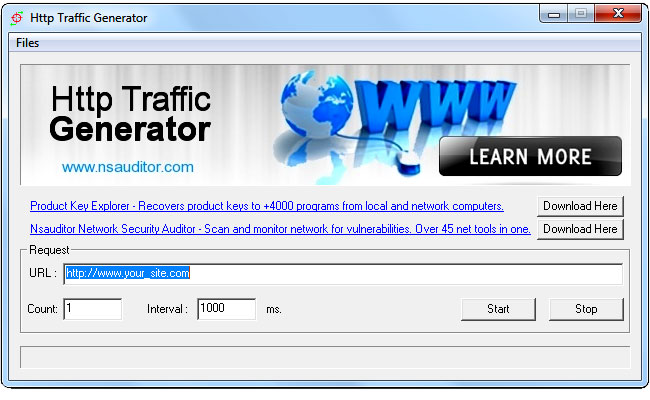 Author: Nsasoft LLC. | License: Freeware
Version: 1 | Size: 312 KB | Platform: Win98,WinME,WinNT 4.x,Windows2000,WinXP,Windows2003
Date Released: 15-02-2005
Homepage | Download

network tool, network software, net tools, hacking, port scan, network utils, network security, port scanner, intrusion detection, event log, computer security, enterprise security, information security, internet scanner, internet security, network attack, security software, freeware, shareware, passwords
Finger - Finger is the tool for discovering user information by using well known finger service. To use the finger tool enter the [email protected])Host in the Finger Input...
Harden-It - Harden-It 1.1 Windows Security Hardening Tool, harden your TCP/IP Stack and Local System. Harden-It is a Network hardening tool for Windows, by hardening t...
Alchemy Ping - A nice FREE graphic replacement for the standard PING utility.
whois - Whois Tool is a client utility that communicates with WHOIS servers located around the world to obtain domain registration information. Whois supports IP a...
SIW - The Freeware SIW is a tool that gathers detailed information about your system properties and settings. A utility that includes detailed specs for Hardwar...
ipCompiler - IPCompiler is a system and network diagnosis Tool. It puts you into the position to accomplish complete diagnosis and/or stocktaking of your System and network hardware.
Universal Explorer
Powerful windows explorer file manager and viewer.


Disk Size Manager
Analyses hard disk space and collects statistics.


Web Data Extractor
Email marketing software to extract specific contact.


ListMotor
Email List Manager, operates with email stored in simple text files or csv files.