Cresotech DesktopSafe Lite
Downloads: | Views:

Cresotech DesktopSafe is a convenient tool for safe storage of confidential information. It provides the comfortable management and secure storage of passwords, nicknames, credit card, bank account and document data as well as other confidential information. Cresotech DesktopSafe protects your confidential information from being viewed. Instead of memorizing dozens of passwords, nicknames, numbers, etc., you have to remember the only password - the one giving you access to whole database. DesktopSafe Lite version is distributed absolutely FREE OF CHARGES. DesktopSafe Pro version, in addition to all DesktopSafe Lite version benefits, will allow you to: save your records to more than one DesktopSafe database files; export/import your data to and from your PocketPC provided you have Cresotech PocketSafe installed there; adjust the program appearance (bacground colors and bitmaps used); remove final advertising screens on exit. With DesktopSafe Pro, you can easily export/import your data to and from your Pocket PC - just connect your Pocket PC to desktop PC and access Files menu. Use Export to Pocket PC option to transfer your data to Pocket PC or Import from Pocket PC option to acquire the data file from Pocket PC. To handle your confidential records on Pocket PC, you need to install Cresotech PocketSafe to your Pocket PC. PocketSafe will do all the work – it has the same functions as DesktopSafe, but operates on the Pocket PC instead of desktop. You can easily upgrade your DesktopSafe Lite version to Pro - just click UPGRADE button in the DesktopSafe Lite program window!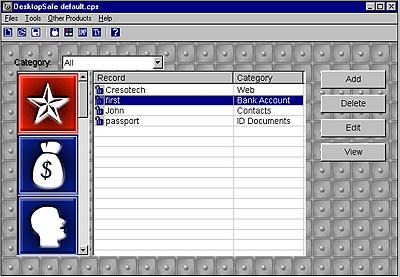 Author: Cresotech, Inc. | License: Freeware
Version: 1 | Size: 3192 KB | Platform: Win95,Win98,WinME,WinXP,WinNT 4.x,Windows2000,Windows2003
Date Released: 18-12-2003
Homepage | Download

security, password, encryption, pocketsafe, desktopsafe, cresotech, data, storage, confidential, reference, organizers, organizer, business, pim, pims, information, manager, passwords
Universal Explorer
Powerful windows explorer file manager and viewer.


Disk Size Manager
Analyses hard disk space and collects statistics.


Web Data Extractor
Email marketing software to extract specific contact.


BackStreet Browser
Powerful Offline Browser - Download Entire Website.