1-2-3 JavaScript Library
Downloads: | Views:

1-2-3 JavaScript Library is a cool new software application that allows you to create amazing javascript in seconds! Choose scripts from an organized, amazingly easy to navigate menu system, and customize them to your own needs! No more long download times, or wasting time surfing the internet to find the one script that you want! Numerous Extra Quality Scripts, in a cool easy to navigate library system! Saves time - no more wasting time trying to find the script you want! No long download times, or wasting time surfing the internet Plus, over 50 scripts in the full version! (click here for the complete script listing!) Browser Code Name Browser Color Depth Browser Java Enabled Browser Name Script Browser Platform Browser Plugin Information (Netscape) Browser Screen Resolution Browser Times Visited Information Browser Version Script Auto CheckMark Auto UnCheckMark Clear Form on Focus Form Validation Info Box Script Login Form Multiple Password/Username Form Script Ensure Frames Present Frame Breaker Script Anti-Email Spam Banner Rotation Script Cool constant table color changer Last Modified Document Date Internet Explorer Set Bookmark Icon Shake the Screen! (Newer Browsers) Color Mouseover Changes Goto URL Mouseover Image Mouseover Changes Status Bar Mouseover/Mouseout Event Drop-down Box Navigation Go to Previous Document Simple Menu Centered Popup Full Screen Popup Script Popup Verification Script Standard Popup Script Close Window on Right Click Image Protect from Right Clicks No Right Click Script Automatic Closing Timer Countdown until Date Display Item until Expiry Date Message Displayed depending on Date Timed Link Message Rotation Script TextBox Scrolling Script Sliding Text Status Bar Script Status Bar Banner Moving Arrow Text Typewriter Status Bar Effect Confirmation Box Script Cookies (Usage Set/Get/Delete) Script Help Prevent Javascript Errors Scr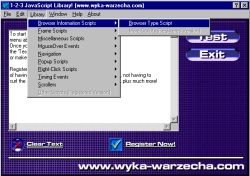 Author: No Spam | License: Freeware
Version: 2 | Size: 2160 KB | Platform: Win 3.1x,Win95,Win98,WinME,WinNT 3.x,WinNT 4.x,WinXP,Windows2000,Unix
Date Released: 01-02-2004
1-2-3 JavaScript Library Related Program:
Universal Explorer
Powerful windows explorer file manager and viewer.


Disk Size Manager
Analyses hard disk space and collects statistics.


Web Data Extractor
Email marketing software to extract specific contact.


ListMotor
Email List Manager, operates with email stored in simple text files or csv files.